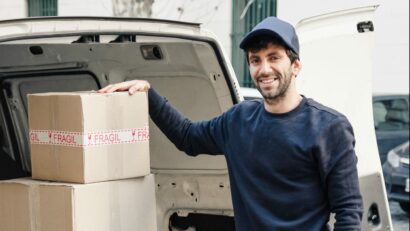 Despite massive pressure from platform operators, the EU Parliament agrees on a directive for more rights for platform workers. In principle, they will be considered employees—with all employment and social security rights. That means: minimum wage, paid vacation, social security and benefits in case of illness and unemployment. The directive is set to end the precarious working conditions of platform work, make the algorithms used more transparent and bring 5.5 million people out of bogus self-employment. 
More than 28 million people in the EU currently work for a digital platform. They deliver food for Deliveroo, clean for Helping, or drive for Uber. The European Council expects that number to rise to 43 million by 2025. The vast majority work independently. It is estimated that 5.5 million of them are false self-employed. As a result, they do not receive the social and legal protection to which they are entitled by law. The new directive aims to change that. 
EU-Directive for platform work: More protection and rights for employees
Platform operators like to present themselves as the pioneers of flexible, modern and self-determined work. What sounds good on paper, however, creates precarious working conditions in reality. Almost 5.5 million people in the EU suffer from this. This is because they work as bogus self-employed workers, although according to the definition they should be employees. 
[embedded content]
They have no social security, no sick pay, no paid vacation and no collective bargaining. They struggle with irregular working hours, high workloads and constant availability. Platform operators are the main beneficiaries. 
"Protecting all workers in the digital age should be as easy as ordering food or a cab by smartphone. All employees are entitled to employee and social rights, i.e., fair pay, social security, sick pay and inclusion in collective bargaining. Agnes Jongerius, employment policy spokeswoman of the S&D Group.
With the new Directive on Platform Work, platform workers in principle will be employees—with all employment and social security rights. The burden of proof with regard to employment status will lie with the platforms in the future. This means that platform operators will have to prove that it is not an employment relationship but a self-employed activity.  
Are Platform workers employees?
The EU-Directive formulates control criteria that determine whether a digital work platform is an employer. If two of the following criteria apply, then this is the case:
Criteria that defines digital work platforms as employer
Determination of the amount of remuneration or setting of upper limits for remuneration.
Monitoring of work performance, including by electronic means (e.g., algorithms)
Restriction of the freedom to choose working hours or absences, to accept or decline tasks, or to use the services of subcontractors or substitute employees
Prescribing certain binding rules regarding appearance and behavior toward the recipient of the service or regarding work performance
Restricting the ability to build a customer base or perform work for third parties
If a digital platform is an employer, then the employees are entitled to full employment and social security rights. This includes the minimum wage (if there is one), regulated working hours and health protection, paid vacation, unemployment and sickness benefits, as well as a retirement pension and involvement in collective bargaining.
If a digital platform is an employer, then the employees are entitled to full employment and social security rights. This includes the minimum wage (if there is one), regulated working hours and health protection, paid vacation, unemployment and sickness benefits, as well as a retirement pension and involvement in collective bargaining. 
More algorithmic transparency
Many platform operators use algorithms to organize and control their employees. Yet most algorithms resemble a black box. Decisions they make are not comprehensible to those affected. Who is hired, who is terminated, how is performance evaluated, and who gets new assignments?
The new directive will make these processes more transparent. Employees should also be able to legally challenge automated decisions. In addition, humans will have to monitor the working conditions and not, as in some cases, algorithms. Above all, algorithms should not have access to the sensitive and personal data of employees (gender, origin, political views, trade union membership). 
The directive now comes to vote in trilogue with Council and Commission
A large majority in the relevant committee of the Parliament adopted the text of the directive. It will form the basis for negotiations in the upcoming trilogue with the Council and the EU Commission.  Läs mer…