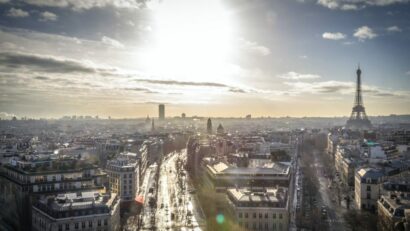 After two successful test phases, the city's decision has been made: bus and tram travel will become free for Montpellier's residents. From December 2023, none will have to pay for public transport. In this way, the city aims to reduce air pollution, cut emissions and support disadvantaged groups. The measure is part of a 150 million euro package that also includes the construction of new bicycle lanes. 
Montpellier's city government is making public transportation free for all. From December 21, 2023, the city's 300,000 inhabitants will no longer have to pay anything for buses and trams. In doing so, the city not only wants to reduce air pollution, but also make it easier for socially disadvantaged people to get around.  
The measure is part of a 150 million euro package to make the city sustainable and emission-free. In addition to free public transport, Montpellier plans to introduce environmental zones and expand bicycle lanes.
Residents can register with the "M'Ticket" app to receive the free tickets. To do so, they need a valid ID card and a registration address. 
Montpellier's Mayor Michaël Delafosse tweeted: "By introducing free transport, we are bold in taking a great measure of social justice, of progress, which works for the ecological transition,"
Par la gratuité des transports, nous faisons preuve d'audace en prenant une grande mesure de justice sociale, de progrès qui œuvre pour la transition écologiqueDès le 21 décembre, les transports publics seront gratuits toute la semaine pour touts les habitants de la Métropole pic.twitter.com/E0r6TWctCT
— Michaël Delafosse (@MDelafosse) February 2, 2023
 
Two successful trial phases: 160,000 people use free tickets
Montpellier has been testing free public transport since 2020. The measure now adopted is the result of two successful trial phases:
Phase: free tickets for residents on weekends (from September 2020).
Phase: Free tickets for young people under 18 and seniors from 65 (from September 2021). 
The first phase already resulted in 12 percent more residents using public transportation on weekends. The second phase was similarly successful: 160,000 residents took advantage of the offer. Even after the end, 60 percent continued to use public transportation. 
Previously, the city supported motorists with free parking hours. The current government abolished this rule and financed the first trial phase with the 1.3 million euros released. 
France: Public transport is already free in 39 cities and towns
Montpellier is not the only French city where residents do not have to pay anything for public transport. Since France handed over traffic management to municipal authorities in 2015, the concept has spread to 39 cities and towns. Among them is the port city of Calais, the Marseille suburb of Aubange and the municipality of Niort. 
Lyon, Paris, and Marseille are still hesitant to implement free public transportation. This is because they are way more dependent on ticket sales to finance their public transport (Photo: Rob Potvin / Unsplash)
Depending on the municipality or city, the measure is financed differently: in Dunkirk, for example, via the mobility tax. In France, private and public companies with more than 10 employees must pay this tax. With 200,000 inhabitants, Dunkirk is the second-largest city in France with free local transport after Montpellier.
Paris, Lyon and Marseille: only partially free local public transport
France's major metropolises (Lyon, Paris, Marseille) are still hesitant to implement free public transportation. This is because they rely on ticket sales to finance their public transport. The share of total costs there is 25-40 percent. In smaller cities, on the other hand, it is only 10 percent. 
Nevertheless, there are also offers in France's big cities to relieve the burden on low-income earners, young people and pensioners. In Paris, Strasbourg and Lille, for example, young people under 18 are allowed to use public transportation free of charge. Passengers in Nantes and Rouen can ride the trams, bus lines and subway for free on weekends. Läs mer…