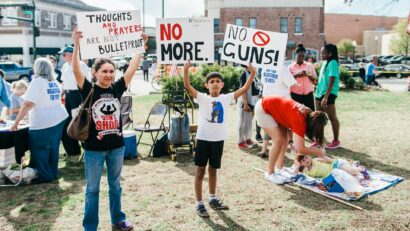 On April 25th, Washington State took decisive action in reducing the risk of gun violence and particularly mass shootings within their borders with the introduction of three new gun control bills. The bills bring into law a ban on some styles of semi-automatic rifles, introduce a ten-day waiting period between the purchase of a firearm and its reception by the buyer, and make lawsuits against gun makers or sellers possible in certain cases. While the signing Governor recognises that the bills "don't solve all the problems", the state has taken an important step in reducing the risk of mass gun violence.
Between 2015 and 2021, Washington state suffered 31 mass shootings. While mass shootings are not the most common form of gun violence – greatly outnumbered by single victim homicides – they often act as a catalyst for gun reform due to the attention and shock they garner both locally and across the world. This is the case in Washington, where three new bills have been introduced in an attempt to ensure that the residents of the "Evergreen State" never have to suffer such a tragedy again.
The new bills tackle mass shootings in Washington State
The bills, which were signed by Washington State Governor Jay Inslee on Tuesday the 25th of April, introduce three new restrictions designed to reduce the risk of gun violence.
A ban on certain semi-automatic rifles
One bans the sale of certain AR- and AK- style semi-automatic rifles. The focus on this style of gun is significant for a couple of reasons. Firstly, weapons such as the AR-15 can do great damage to crowds of people in a very short period of time. They are powerful, accurate, fire at a rapid rate, and are generally easy to obtain in the US. For this reason, they have become the weapon of choice for people seeking to carry out a mass shooting, with the weapon having been used in ten of the 17 deadliest mass killings that have taken place since 2012. The ban, while not getting to the root of the problem, means that prospective killers in Washington will likely have to settle for something less deadly.
The bill's intent section gives the following reasoning for the ban:
"Assault weapons have been used in the deadliest mass shootings in the last decade. An assailant with an assault weapon can hurt and kill twice the number of people than an assailant with a handgun or nonassault rifle."
Secondly, the AR-15 in particular has become a symbol of the conservative American right. The gun, which is more at home on a battlefield than it is in the streets, fields and forests of the US, has little-to-no practical use for the average American. Despite this – and the fact that the gun is now forever linked to the slaughter of school children and innocent civilians – republican politicians and their supporters alike continue to pose with glee alongside their prized weapon.
Merry Christmas! 🎄ps. Santa, please bring ammo. 🎁 pic.twitter.com/NVawULhCNr
— Thomas Massie (@RepThomasMassie) December 4, 2021
This idolisation of the popular mass murder device is exemplified in the fact that senior republican figures Lauren Boebert and George Santos co-sponsored a bill that would make the AR-15 the "national gun of the USA" in February 2023. For many on the right, it is more a question of having it because they can, not because they need to – whatever the human cost.
A ten-day waiting period for buyers, and the risk of legal repercussions for manufacturers
The new bills don't just target buyers, they also target manufacturers and sellers. From now on, those in a position to provide firearms must take steps to ensure that weapons are not sold to people known to be dangerous, or people who might be buying the gun to pass it on to someone else. They must also ensure that the weapons are manufactured and marketed responsibly. Should they be found to have failed in any of these measures, it is now possible to sue manufacturers over any future violations or damages.
[embedded content]
The aforementioned ten-day waiting period is designed to provide a buffer period between people in crisis and their possession of a deadly weapon. During this period the buyer must also provide evidence that they have completed the required safety training. The hope is that this short period will reduce the risk of people buying and using a deadly weapon during a time of anger or mental instability.
Washington's gun control bills only a drop in the ocean
Over the course of 2023 so far, 14,427 people have lost their lives to gun violence in the United States and 11,412 have been injured. While mass shootings are the most widely publicised due to their shocking nature, they only account for a small portion of overall deaths (212 out of 14,427). While banning certain styles of semi-automatic rifle will help prevent devastating mass shootings, the majority of shootings which are carried out with a wide array of guns, will continue. In 2021, over 6,000 murders were confirmed to have been committed using a handgun, compared to 447 by rifle. While there were a further 4,740 cases in which the gun type was not recorded, it is clear that only banning certain styles of semi-automatic rifles is like putting a band-aid on a gunshot wound, with an estimated 1.4 million guns having been sold in the US last month alone.
Inslee, the governor who signed the bills into law, also recognises these bills as a drop in the ocean, stating:
"Just because they don't solve all the problems does not mean the state of Washington does not take action… Inaction against gun violence is unacceptable."
Gun reform in the US is a gradual and difficult process
As the world watches on as seemingly weekly news of school, supermarket, church or street shootings filters out of America, gun reform advocates should not hold their breath in hope of an absolute ban. Despite strong support for regulations such as requiring background checks on all gun sales, banning assault weapons, and not selling firearms to those with potentially dangerous mental health issues (88%, 67% and 84% support respectively), there is no great call for a widespread ban on ownership. But tragedy after tragedy, protest after protest, and bill by bill, gun reform activists and supporters hope that they are moving towards a time where widespread gun violence in the US is a thing of the past – and these three bills are certainly a step in that direction. Läs mer…